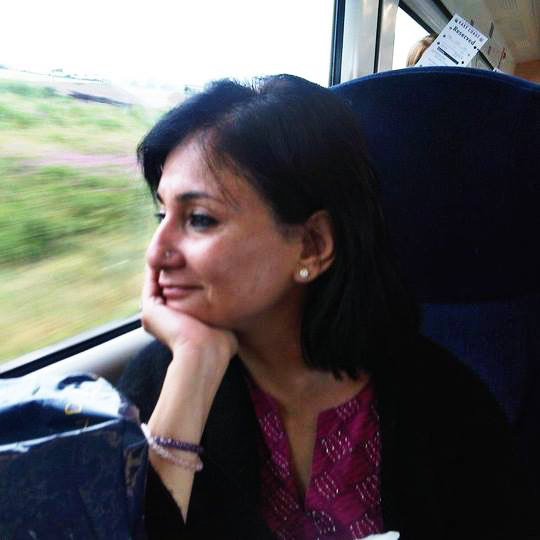 A Sociology graduate from Delhi University by qualification and a spiritualist by instinct, Sabrina has always had an eye for art. She developed a keen interest in the subject at an early age and always knew that she would be an artist; being guided to the subject of her work intuitively.
Mentored by accomplished artists and having mastered the skills required to work with most mediums, Sabrina has developed a distinct style in portraiture and landscapes. Most of her work reflects human emotions, with beauty as the central theme. Her compositions are realistic in style and steeped in the enriching experiences of a life well- travelled as well as a mind spiritually inclined.
 In Sabrina's own words:
"Art is a passion and I believe that learning fuels creativity. There is no end to learning and I intend to keep exploring. 
Working on a painting transports me into a meditative space, which is therapeutic and a wonderful exercise in mindfulness. Art is a spiritual experience, where all my senses are engaged in creating a beautiful piece of work. The joy of seeing a completed artwork, comes very close to the joy and wonder a mother experiences when she gives birth and far exceeds the thrill of a sale. I spend a minimum of two to three hours of the day at my easel and when in the throes of the creative process, time and surroundings lose their meaning.
Art has taught me much but it has also taught me how much more there is to learn and I intend to continue my journey of self- discovery through art for the rest of my life."
Imbued with a strong spirit of community Sabrina marries her art to her social conscience by supporting causes close to her heart. Through the proceeds from the sale of her paintings, she supports terminally ill Cancer patients via organisations such as Cansupport.
In addition to her art, Sabrina is a practising Buddhist, (as a member of the Bharat Soka Gakkai), a Reiki master, a tarot card reader, and a gardening enthusiast.
Sabrina's body of work encompasses a wide range of subjects which include portrait art, spiritual art, devotional art, figurative art, mythological art, architectural art, and her signature style is of art is realistic. She is a well established professional commission artist in Delhi NCR, and has made a name for herself as a zen artist and a portrait artist. She handles a whole range of themes from ethnic Indian art to western subjects, with ease and panache.

Past Exhibitions
 Quill and Canvas Art Gallery, Gurgaon, December 2011.

Epicentre, Gurgaon, March 2012.

Lalit Kala Academy, New Delhi, October 2012.

Epicentre, Gurgaon, October 2013.

Cyber Hub, Gurgaon, March 2014, Solo showing.

Gallerie Romain Rolland, Alliance Francaise De Delhi. New Delhi, April 2014.

Taj Palace Hotel, New Delhi, August 2014, Solo showing.

All India Art Exhibition, Sponsored by NDMC, at AIFACS, September 2014.

Epicentre, Gurgaon, October 2014.

India Habitat Centre, The Open Palm Court, New Delhi November 2014.

Gallery: The Art Place, Gurgaon, September 2015

Gallerie Romain Rolland Alliance Francaise De Delhi, New Delhi, November 2015.

"Inner Vision", group exhibition at The Visual Art Gallery, India Habitat Centre, New Delhi, December 2018

Group Exhibition at Studio 55, 55 Sunder Nagar, New Delhi, from 14th December 2018 to 10th of January 2019.

"A Melody in Colour" – A solo show at the Convention Foyer, India Habitat Centre, April 25th to 28th, 2019.

"A Melody in Colour", a solo show at the Convention Foyer,India Habitat Centre, from 14th February 2020 to 17th February, 2020.

Online Exhibition with Art Spectra in September 2020.

 Upcoming Exhibition
Poland International Art Exhibition, (Teleportation 02), from the 4th to the 11th October, 2022 at, 1 – Metamorfozy Gallery, Warszawa, Poland.