Whether you decide to make art to sell or make it for pleasure, art is a calming and therapeutic pursuit. The beneficial health effects of art go far beyond just relaxation. 
According to studies, art therapy can be extremely helpful in treating conditions including phobias, post-traumatic stress disorder, anxiety, and depression. As we discussed in Part 1 of this blog, art is a great way to release your emotions, communicate your sentiments in a non-verbal way, and bring out that which is within.
We will examine art therapy in more detail and go over its advantages for mental health in this piece. 
How Does Art Therapy Work? 
The most straightforward definition of art therapy is the use of the visual arts in a therapeutic setting. 
 Some of the healing benefits of creative expression can be felt without necessarily visiting a therapist. You can experiment with various art forms, like art journaling, sketching, creating collages, clay modelling … the list is endless. It doesn't matter what media you choose. The only thing that matters is that you feel comfortable using it.
Working with a qualified therapist can have huge benefits because a professional can tailor each activity to work for your specific needs. If the activities are done in a group, they are excellent for building healthy connections with other people, which may be very helpful if you are fighting depression.
Who Should Attempt Art Therapy? 
Anyone who is feeling stressed, overwhelmed or anxious with the fast-paced world we live in. Creating art will give you a chance to slow down and explore and self-reflect. Art therapy improves the mental health of people who are dealing with addictions, anxiety, attention disorders, grief and loss, dementia, depression, eating disorders, physical illness, PSTD, trauma, relationship issues and much more.
Art therapy is not about being a great artist because the emphasis is on the process rather than the final product. The benefits are about discovering yourself and connecting with your emotions at a profound level. 
Benefits of Art Therapy Activities for Mental Health 
Traditional mental health treatments may be supplemented with art therapy. The objectives are to control behaviours, process emotions, lessen tension and anxiety, and boost one's self-worth.
Coping with emotional trauma, despair, or worry may be extremely hard on your body and mind. Artistic pursuits can help unwind, calm your body and mind and self-soothe.
Since the focus is on the process and not the final product, art therapy is not about becoming a great artist but about finding meaning and connection in your life. 
Additionally, research has proved that making art promotes dopamine production. When we engage in enjoyable activities, this hormone is released, and it essentially uplifts our mood. Increased production of this uplifting neurotransmitter (dopamine), can be incredibly beneficial if you're struggling with sadness or anxiety. 
Mental health professionals and experts agree that art therapy has many benefits, from boosting your self-esteem, and providing you a safe outlet to release your emotions, to giving you a sense of control over your life and helping you to get to know and understand yourself better. 
So enjoy your journey of self-discovery while creating art. While you are at it, clear those emotional obstacles and teach yourself to communicate with both yourself and others. Happy "arting"!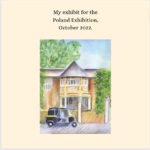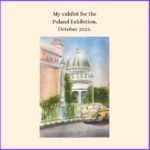 Shop these painting on
#originalpaintings #affordableart #figurativeart #portraitart #cityscapepaintings #landscapepaintings #acryliconcanvas #mixedmediaoncanvas #mixedmediaonpaper #instagramart #zenartist #commisionartist #oiloncanvas