The first solo exhibition is a very significant step in the journey of an artist. Curating and planning your solo art exhibition takes a bit of doing in the courage department. Brushing aside those doubts and fears about negative feedback can be quite daunting. Once you have dealt with your fears and misgivings and know that your artwork is show-worthy, you are good to go. It is a risk worth taking for emerging and established artists, as exhibiting your paintings at a public venue takes your art to a wider audience and gives you the exposure you need as an artist. 
When preparing for your exhibition, the first point to consider is the context of your show – should it have a theme or be non-thematic. I prefer not to be stuck with a theme – I create artwork in series of four, three or even two. The average time an artist will need is two to three years to come up with enough artwork for a solo exhibition. 
Holding your solo art exhibition is a great way to build up your artist profile, an opportunity to collaborate and interact with people from the world of visual art and sell your work directly to collectors. It is an investment in yourself so ensure that you have a budget that covers all your costs. Many well-known artists have self-organised solo exhibitions to generate interest in their work. Having organised and curated several group shows and solo shows, let me walk you through the process and steps involved in setting up a successful exhibition.
Assuming that your artworks are complete and titled, the first step is to scout around for a venue.

Try to find an art gallery that is a part of a cultural hub where plays are staged, music gigs are held and one which is home to good restaurants and cafes. That way you can leverage the crowd coming in to eat or watch a theatre production. Block dates that coincide with other important cultural or shopping events that are taking place around the art gallery. Check with the gallery authorities if they provide or allow press coverage and the traditional wine and cheese party on the evening of the inauguration.
Get an estimate of the cost of labour for the installation of the paintings and check on the availability of hooks and fish-thread to hang your paintings. Find out if the gallery will make the arrangements for the inaugural event (cocktail evening et al ). If not, then tap a wine company that will sponsor the wine for the cocktail event in return for publicity through your event. Most galleries are connected to caterers who arrange the food and tenting for gallery events. Discuss the cost of all of this.
Getting a printout of a floor plan of the gallery will enable you to plan the display of your paintings. Check with the gallery if they could share contacts of art collectors and art galleries for you to invite to your exhibition – if not, then scour the pages of Google and prepare a list of invitees and zero-in on a chief guest. It is always preferable to have a celebrity from the world of art (visual art or performing art) or a socialite to cut the ribbon and light that lamp. 
Give your intended chief guest a complete heads-up on your exhibition, a couple of months ahead of the event, so that he/she can block the date and be available.
Collaborate with an NGO and share a percentage of the sales with the NGO.
It is important for your customers to know that a part of the money they spend on buying your work, will support a social cause. 
Market and publicize your exhibition.                      

If you are like me, and the thought of marketing makes you want to curl up in a fetal position and eat popcorn, a good way to start is to get in touch with a public relations company and set up a publicity campaign tailored to your budget. If your budget does not permit you to hire a public relations consultant, don't fret – there is plenty that you can do to promote yourself. Most weekend newspapers feature upcoming art events, free of cost. Look out for such articles a few months ahead of your exhibition. Make a note of the feature and the contact details of the journalist. Email the publication with complete details of your exhibition along with a few images of your artworks – if your previous exhibitions have been covered by media, attach those media clippings as well. Follow up this email with calls to the and (gentle) reminders closer to the date of the show. Gentle persuasion always works.
Apart from this, advertise your upcoming exhibition widely on all social media forums. Draw up a list of your contacts and send out social media invitations, asking them to save the date. List out the people you would want to send the printed invite to – remember to include your sponsors!
Arrange to get your event listed on the events page on the day of the exhibition by letting the newspaper know a week ahead of your show – you will need to follow this up with (gentle) reminders. This is a service that most newspapers provide free of cost. 
If you have the funds, set aside a budget for media coverage of the inaugural event, (assuming that the gallery permits an inaugural event). If the cost of publicity in a mainstream daily is too high, harness the power of social media and make your event go viral – to this end, you can enlist your friends, family, your childrens' friends – the list is endless. Remember to hire a photographer and ensure that the photographer reaches the venue at least an hour before the inauguration.
One of the most important items that you need to get hold of, is a credit card swipe machine.           

You can do this by opening a current account in a bank and requesting your bank manager for a credit card terminal. This vital if want walk-in sales.
Printed publicity material. 
The printing of catalogues, invites and envelopes, standees, posters, painting tags, price tags, visiting cards needs to be done at least two weeks ahead of your exhibition. You can save yourself some money by using free templates available online for the invites and can design your logo and visiting cards on applications like Canva etc. Ensure that your publicity campaign, online and offline, has the logo of any sponsors and charitable organisation or NGO that you may have collaborated with.
The printing press would have samples of artist catalogues which you can alter to your taste.
It usually takes a day or two to brainstorm with the people from the printing press before you finalize your publicity material.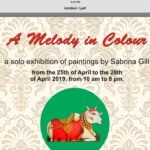 Inviting people.
Once the printed matter is with you, call up all the people you intend to invite before you send them the invitation. Close to the exhibition, put up posters at strategic locations and keep the social media publicity going. Please invest in a visitors book and a small giveaway for the chief guest.

 Send out the printed invitation a week before the inaugural event so that the invitees receive them three to four days before the date of the exhibition.
Installation of paintings.                                              

On the eve of the inauguration, go to the venue with your paintings and have them installed and tagged to your satisfaction. Place standees at vantage points at the venue, arrange catalogues, visiting cards and the visitors' book on your table. Ensure that catering and other arrangements are on track. Go home and have a restful sleep.
Showtime!
Bring

on that charm and put on your best smile when you attend to visitors and invitees. Share the inspiration behind your work and the picture story behind each paintings. Receive your guests and chief guest and make a short welcome note/speech after the lamp is lit and the ribbon is cut. Remember to thank your sponsors, the media team and promote the charitable institution you have collaborated with. Lastly, enjoy the party!