En plein air is a French term that means, "in the open air." A "plein-air painting," is a painting that is completed on location. Most schools of thought recommend painting on location as much as possible – be it a still-life, a landscape or figurative forms, based on the study of live models.
When impressionist French masters like Claude Monet and Pissarro began painting outdoors, it was considered revolutionary. Today, working on location is a routine practice for many landscape and cityscape artists. Plein-air artists maintain that the essence and soul of the subject get lost when a painting originates from a photograph as the sole reference material – an artwork reflects the joy the artist experienced while painting on location.
We may ask why that is so? What are the differences between painting from life and painting from a photograph?
A photograph very often does not show the world as the eyes see it.
Why is that? The image captured by a camera is in many ways different from the real thing our eyes see.
To paint from a photo and render the subject as the eye would see it, you need to learn about the possible distortions and limitations of a photograph and how to correct them.
In photos, shadows are darker and less detailed
Shadows and dark areas don't print well. Dark values get darker and lose detail.
When we view our subject with the naked eye, shadow areas hold a lot of details, and in most cases a wide range of tonal variations. When we take a photo, the camera distorts the contrast and colours making them flat – we lose a lot of elements and interesting details. The variation of colour in the lighter are get washed out as well – at times overexposed. 
Apart from this, perspective can get skewed if the position and angle of the camera are not correct. 
Having said this, plein-air painting has its challenges and it is not always possible to work on location. A crowded street in India is not the most conducive environment for an artist to work on a cityscape project – getting a model to pose nude for a charcoal project can prove to be a tall order – painting a landscape plein-air, in the scorching Indian summer can take the joy out of art – the rain can dampen your enthusiasm. So despite your best attempts to paint plein-air, sometimes a photo reference is the most workable option.
.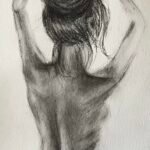 Shop this now on
https://www.etsy.com/shop/RengeBySabrina
I will share a few valuable tips you need to keep in mind when using photo references for paintings and some techniques you could employ when photo shooting the subject of your art project, to create great paintings.
Avoid using overexposed or underexposed images. Examine the darkest and the lightest parts of your reference image – are all the details and variations of tones visible? If the dark areas are too dark, turn the image around to see if you can see any fines details. A photograph taken during the day and in natural light is will capture the maximum detail and will make a good reference.

A high-resolution reference image makes for a good painting. Ensure that your reference image shows more than the level of details you wish to achieve in your painting.

     Consider the placement of your subject on the canvas/support, keeping in mind the rule of thirds. Will the subject matter fill the space on our support or will you have to resize the subject? Positioning of the focal point is important and the negative spaces need to be balanced and worked with interesting details. You don't have to faithfully reproduce every single detail from the reference image – there is enough scope for creativity, even if you work with a reference photo.

 While photographing your subject, ensure that the camera is held straight – tilting the camera upwards or downwards will distort the image. This is very important when you are photo shooting buildings for a cityscape – you don't want the buildings looking stunted or elongated and tapering at the top.

Shop these now on

https://www.etsy.com/shop/RengeBySabrina

 Use editing software to enhance the photo – use the adjustment of light, colour, contrast and saturation. Desaturate or mute the colours, lower the contrast and soften the areas that you don't want to draw attention to. Techno-phobics like me can use photo-editing software with a fair amount of success.
I hope you found this blog useful. Paint plein-air as much as possible. If you can't paint plein-air, don't despair – there is always a solution!